thanks to judy lasswell, who shared this message with me ... it is so encouraging to know, while i do my best to say 'no' to continuing misery and 'war' in any corner of my mind or aspect of my life ... there are others like this one, called 'the politician for peace' ... dedicated to turning the world in the direction of everyone, everywhere, having a choice to experience 'heaven on earth.'
maybe Raj's hopeful speculation that ... if enough of us start operating from our 'right mind' ... aka, start acting as the Christ we are ... who knows, Maitreya may not be called upon to show Himself publically in the world after all! ... somehow that feels like a giant step toward Home for humanity.
thanks again, judy ... i was so happy to see you signin on the new board ... all my love to you and your precious family ... orinda
U.S. Rep. Dennis Kucinich Speaks on "Creating Peace"
Five hundred cheering supporters greeted U.S. Rep. Dennis Kucinich (D-Ohio) on February 19 at the Best Western Hotel in Fairfield, Iowa, where the newly announced Democratic presidential candidate spoke on "Creating Peace" and won many standing ovations from the crowd for his bold approaches to the crucial issues facing the nation.
The rally, cosponsored by the Natural Law Party and the Jefferson County (Iowa) Democratic Party, drew an additional 500 people via national teleconference call, as well as on-site coverage by the Associated Press and many Iowa newspapers.
(To hear a replay online, please visit http://www.natural-law.org and click on "Listen" under the "Special National Conference Call" announcement at the top of the page.)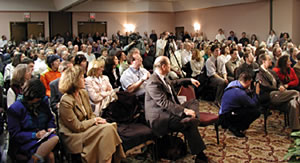 Dr. John Hagelin, the Natural Law Party 2000 presidential candidate, introduced Rep. Kucinich as this year's "peace candidate." Calling Kucinich "a powerful voice for change—a visionary with his feet planted firmly on the ground," Dr. Hagelin said, "From my perspective as a third party candidate, he is the one candidate who can unite us all. The American people have no better ally in Congress than Dennis Kucinich, and he deserves our dynamic support."
Kucinich, a four-term Congressman from Ohio's U.S. Congressional Tenth District, is a national voice for peace and civil liberties and is the chief architect and advocate of a new U.S. Department of Peace (see http://www.house.gov/kucinich/index.htm and click on "peace"). He began his talk by thanking Dr. Hagelin for his friendship and for "the collegial role that we've played over the years in looking at some of the great challenges in our society."
Referring to those challenges, from the impending war against Iraq to the plight of family farmers struggling against multinational corporations, Kucinich said, "We are at a defining moment in human history. Something is very wrong in this nation today, and someone has to step forward and say, 'Stop it.' It's time to take a new direction in America."
Quoting the poet Tennyson, Kucinich repeatedly urged the audience, "Come, my friends. 'Tis not too late to seek a better world." He called for a new, holistic vision of the world as "interconnected and interdependent, where what one person does to another matters, where America can be a force for helping to create new possibilities of unity worldwide."
Kucinich spoke passionately against U.S. plans to invade Iraq. "The United States is poised to go to war against Iraq," he said. "But it must be said to the media: Iraq had no connection to 9-11; Iraq had no connection to Al-Qaida's role in 9-11; Iraq had no connection to the anthrax attacks on our country; Iraq has no intention to attack the U.S. Our current strategy will separate the U.S. from the world community and, in doing so, create a doctrine of unilateralism and preemption, the right to be aggressors. And the U.S. will reverse years of treaties, and set aside the U.N. charter as well, by declaring that we'll be the first to use nuclear weapons. Even talking like that is a violation of all principles of decency."
Kucinich described the 1996 Department of Defense report "Shock and Awe," which calls for missile strikes against Baghdad, a city of 5 million people, of 400 missiles on each of two consecutive days to achieve what the report calls "nonnuclear Hiroshima-like effects."
"The poet Wordsworth talked about 'primal human sympathies'—his sense that, because we're connected to nature and each other, we have a sense of transcendence," Kucinich said. "But what happens when we lose our sense of human unity, when we forget that you and I are one? We start planning to attack with no justification; we forget the narrative of millions of lives, the fragile nature of a single existence, the daily routine of human life, the delicate gossamer-like fabric of family.
"We are at a moment of turning, a defining moment in human history. We join billions of people around the world who aspire to a higher expression of humanity, who aspire to live out their lives in peace. We join people throughout the world who are looking to us to make peace inevitable. We have a responsibility to shake the U.S. out of its lethargy and reclaim its rightful role as the light of the world, as the peacekeeper of the world, without raining destruction on the world. We have a responsibility to wake America up and say 'no' to war once and for all. War is not inevitable."
Reminding the audience that 100 million people, mostly civilian noncombatants, had perished in wars in the twentieth century, Kucinich described his efforts to create a Department of Peace in the U.S. Government. "A structure in government informs the consciousness of a nation," he said. "The Department of Peace will create a structure in government that will look at where violence starts. Poverty and homelessness are weapons of mass destruction. It's not too late to seek a newer world."
Kucinich also called for other sweeping changes in U.S. foreign policy, including
Full U.S. involvement in nuclear nonproliferation
Participation in the Biological and Toxin Weapons Convention, the Chemical Weapons Convention, the land mine treaty, and the small arms treaty
Participation in the Kyoto climate change treaty
Full support for and participation in the International Criminal Court
Kucinich also outlined a comprehensive domestic agenda. He pledged to
Repeal the trillion dollar tax cut
End the plans for an Iraq war, which would cost between $200 billion and $1 trillion
Implement universal health care, including alternative and preventive approaches
Ensure that all students can go to college for free
Increase the minimum wage and living wage, and keep unemployment below 4%
Avoid the privatization of Social Security
Mandate the labeling of genetically engineered foods
Implement significant campaign finance reform
Withdraw from the WTO, repeal NAFTA, and return to bilateral trade agreements
Revive regulatory structures that will make corporations return to their role as producers of wealth, not controllers of the U.S. government
The Natural Law Party applauds Rep. Dennis Kucinich for his vision of America and his commitment to creating a peaceful world. For more information on the Kucinich campaign, or to make a donation, please visit
The Natural Law Party also thanks all its supporters for making this event possible. Your generosity has enabled us to continue to build powerful coalitions with like-minded candidates such as Rep. Kucinich and with peace-loving organizations across the nation. Together, we can create prevention-oriented national administration in America and lasting peace in our world.
Edited by Orinda 2003-02-24 10:41 AM